This collection of pieces have a story behind them.  Some were envisioned by others, others carry a message close to my heart.  No matter the reasoning behind them, I found them all truly inspiring to create.
You Are My Person
An old friend of mine asked for a piece for his girlfriend's birthday that included the phrase "You are my person" and elephants.  This is what I made them:
Memories in the Making
The organizer of the Alzheimer's Association event, "Memories in the Making," contacted me again to see if I'd be interested in either doing another palette or even being one of the pairing artists for this year's event.  I decided to do another palette with a pup design–one of my favorite inspirations!
Photo to come…
May All Beings Everywhere Be Happy and Free
A very sweet gal who had seen me at a market asked me to create a sign for her vegan friend that read, "May All Beings Everywhere Be Happy and Free" with images of various animals.  This was what I came up with:
Daisy and Obi
A co-worker came up with the idea to have me make a pair of blocks that represented her two dogs, Daisy and Obi.  Here's what she got: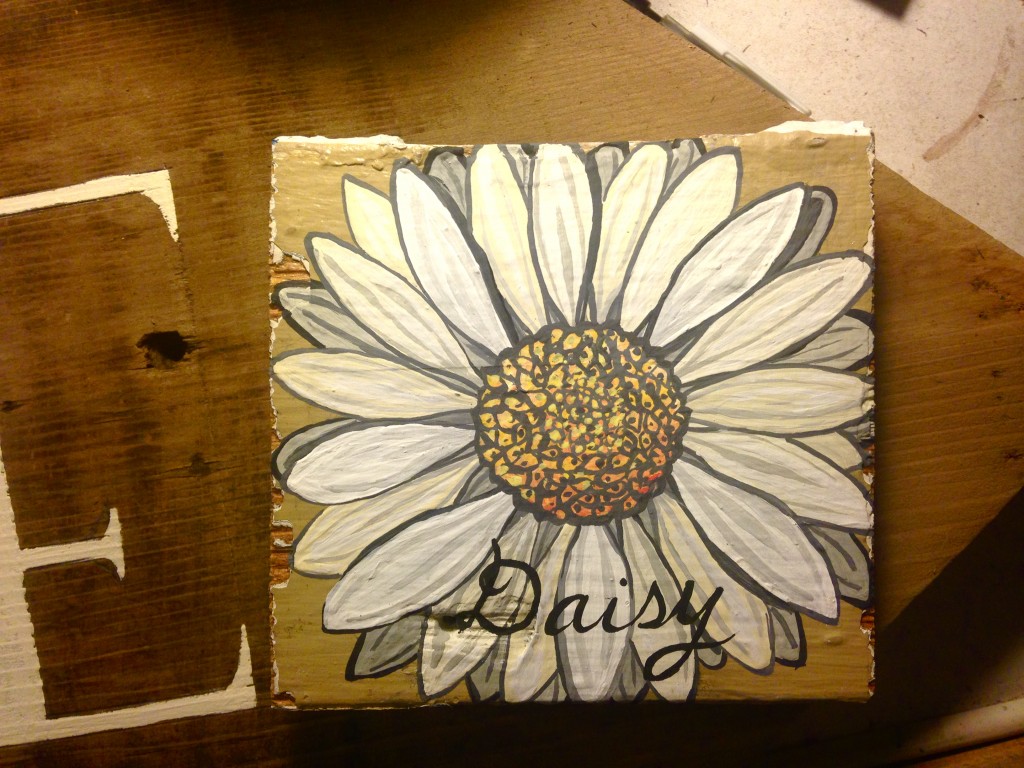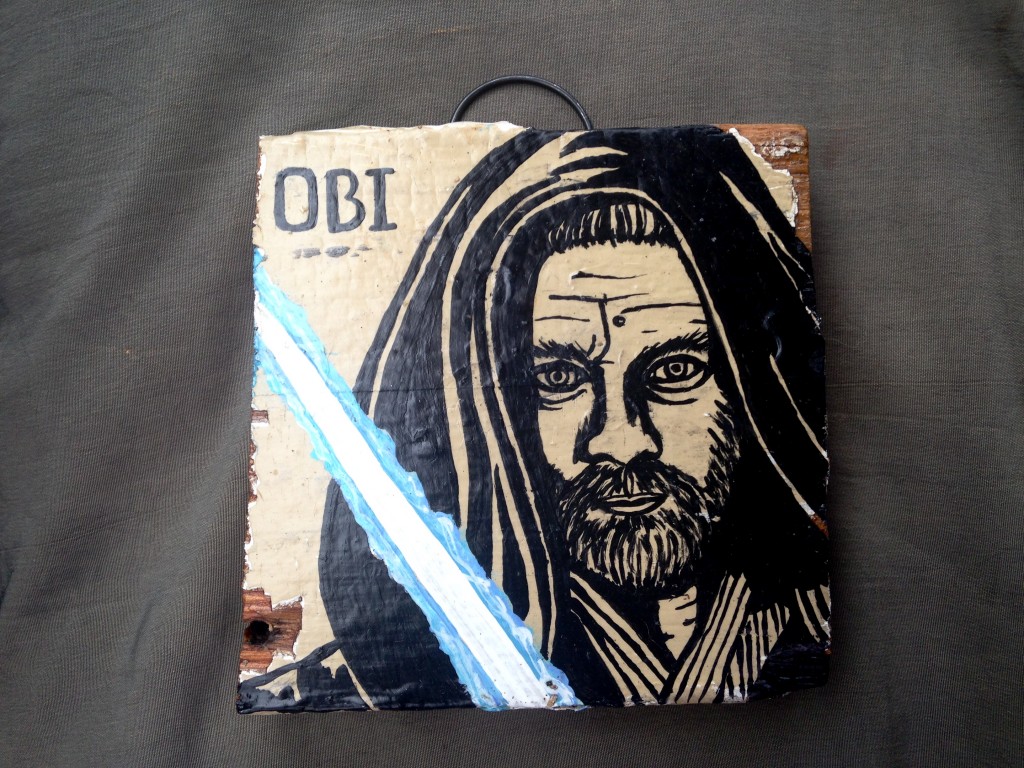 Doodle Doo Key Hanger
In March of 2014, someone contacted me via Etsy about donating a piece of art to the Alheimer's Association's event, Memories in the Making.  I was asked to design a wooden artist's palette, which would be in a silent auction, along with hundreds of other original works by local artists and Alzheimer's patients alike.
I jumped at the opportunity to raise money for a good cause and get some local exposure.
The design for my palette celebrated the local food movement.  The growing amount of family gardens and backyard chickens are truly inspiring!  Here are some photos of my "Doodle Doo key hanger" palette: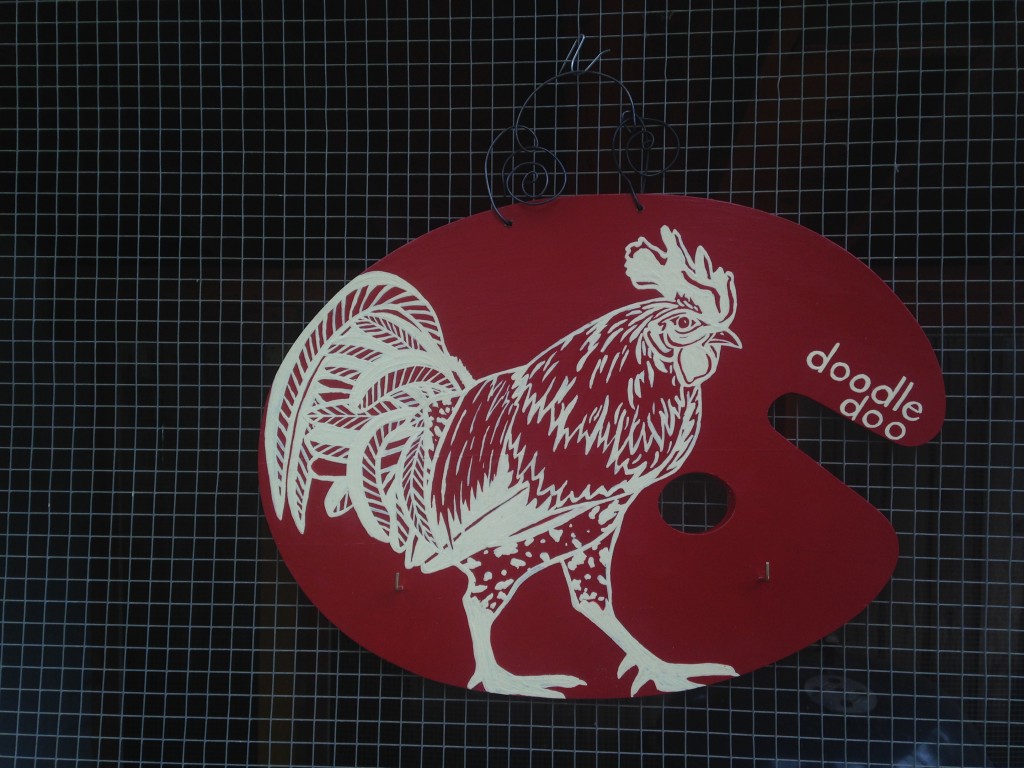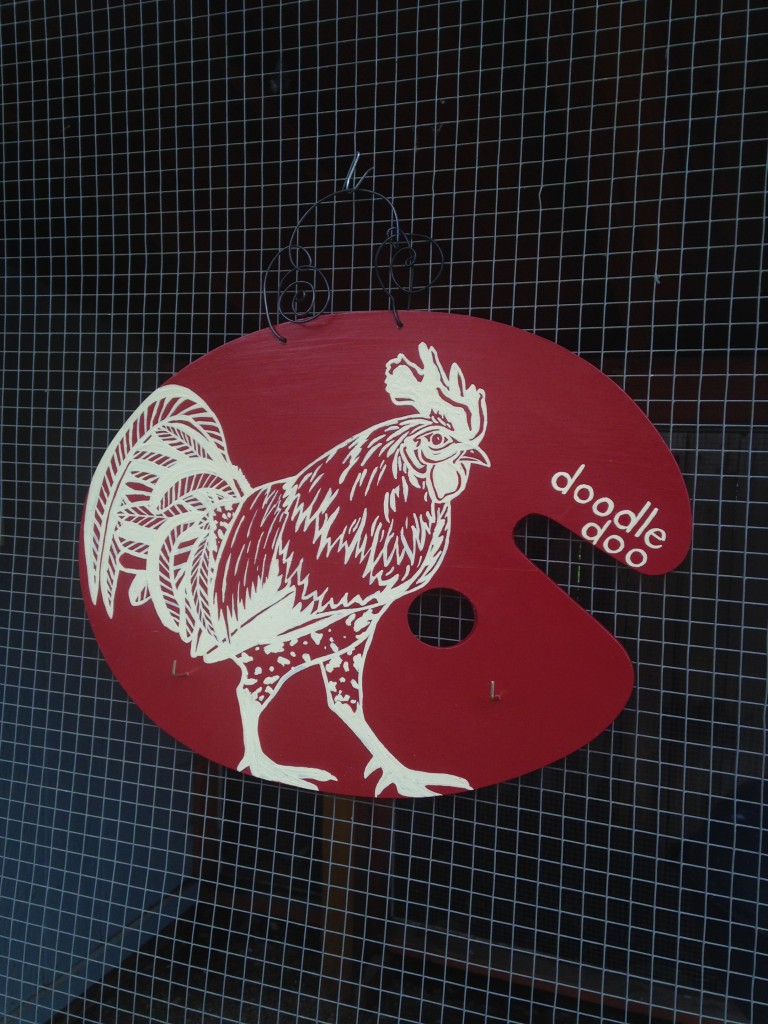 We attended the art auction on May 20, 2014.  It was such a fun event right here in town, and lots of money was raised!
Unlock It
This piece that I designed for the "Celebrate ReUse" show sends a message that's important to me, and was apropos of current events.  "Unlock It" symbolizes the small victories we've been witnessing around the nation in relation to marriage equality.  It is composed of parts from an old dresser, keys, door knob and plate, bits of a 1950s map, Tanzanian fabric, doilies, music paper, pages from old books, and other found bits and pieces.

White Bike in the Aspens
This commissioned piece was a gift from a wife to her husband who had lost his father. This is what she wrote me:
My husband's father was an avid cyclist and was killed in 2010 by a driver while cycling with some friends. A bicycle painted all white was placed at the site of his death in remembrance of him for over a year. It has since been removed. My husband grew up in an inland town in California where there were many orange groves. Now that we live in Colorado, I think creating a grove of trees (like Aspens) that are native to Colorado will honor both where my husband grew up (where his mother still lives) as well as where we live now…
The tragic story and touching idea behind it made this piece very special to me as well, and I felt honored that she asked me to make her vision a reality.